Stream is a former member of the White-Clad's Butchers.
Appearance
Stream wears their organisation's predominate outfit with a target symbol on their hood and a large cross across the chest. Their face is hidden behind strips of black fabric that form a rectangular cage-like shape.
Abilities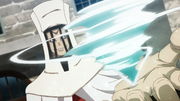 Being a member of the Butchers, Stream specialises in the assassination of ability users.[1] Stream is a Third Generation, who can use their Ignition Ability to create fire tornadoes around their limbs.
Plot
Ōbi's Rescue arc
Stream accompanies Gold and another Butcher to confront Company 8 at the gateway of Fuchū Prison. Gold tells Stream to stand aside while she does battle. After Gold is defeated, Stream enters the fray, easily pushing Company 8 on the defensive with his array of devastating techniques. However, he is quickly dispatched by Arthur Boyle when the latter makes a timely (albeit late) appearance onto the battlefield.
References