Hibachi Shinmon was the name adopted by this Demon Infernal that is the doppelgänger of Hibachi Shinmon.
Appearance 
This Doppelgänger had the charcoal-like a texture of a normal Infernal but is near identical to the original Hibachi, having his exact face, cross-shaped tattoos around his forarms and deer-like pupils. Instead of having the original's facial tattoos or the horns of a typical demon; this creature had antler like horns made of flame. It also had cloven hooves like a deer or goat instead of human feet. It wore a tattered version of Hibachi's kimono.
Personality
As an Infernal, he retained his lust for battle and desire to test his successor, still barking the same belittling remarks towards his former student in battle. Unlike the original, this demonic Hibachi had no regard for the suffering of infernals and seeks the destruction of Tokyo. Even firing dangerous attacks that risk civilain lives, his harsh remarks contained nothing but criticism and disappointment in Benimaru.
Abilities
Though little of his abilities were demonstrated whilst he was still alive, when returning as an Infernal all of these basic abilities are presumably enhanced and even granting him an increase in firepower. He was able to match Benimaru in combat, something Konro stated he should have struggled to do. In this state he is extraordinarily fast and strong, matching Benimaru easily blow for blow even without using his Ignition Ability and able to tear through normall Infernals with a single strike. Uniquely, this creature has the ability to float in the air and is able to manoeuvre perfectly for airborne combat.
Ignition Ability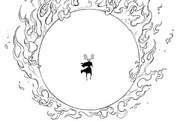 He can swiftly and perfectly use Iai Hand-Sword forms 1-7 as he is the creator. Each of his uses of the techniques are so drastically powerful they can blind bystanders with the intensity of his flames when clashing with Benimaru's own. His use of Form Four:Red Sun is so staggeringly powerful that despite the ocean being behind the firing point and not in direct flame it created a crater in the ocean and vaporized it. The power of his flames clashing with Benimaru are so powerful and hot they draw Adolla closer.
Plot
Stone Pillars Arc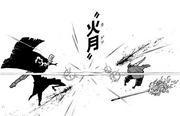 As the Seventh Stone Pillar rises from the sea and Haumea reaches into the Adolla, Hibachi's Doppelgänger claws its way to the top of a pile of Infernal bodies. He manifests in the real world before Company 1, casually destorying Infernals in his path as he files towards Asakusa. By the 7th Pillar, he waits for a challenger as Benimaru flies to confront this shadow of his master. In the skies above Sumida Bay, The Doppelgänger's raw offense easily overwhlems Benimaru, knocking him into the waters below and chastising the Captain for his inability to use Sun Wheel. As the battle becomes more and more intense, the combined power of both Shinmons causes the Adolla realm to effect even the waves beneath them. Company 7 arrive and see the fight between their two leaders and begin to celebrate the spectacle of battle. Hibachi uses Moonlight to blind Benimaru before unleashing Burning Sun from beneath his target. Despite the attack's incredible power, Benimaru is able to use his Second Generation abilities to survive unharmed. Benimaru finally bows before the Demon, now ready to kill him.
Community content is available under
CC-BY-SA
unless otherwise noted.