Jurassic World: Dominion Dominates Fandom Wikis - The Loop
Play Sound
Gold (ゴルド, Gorudo) is a former member of the White-Clad's Destroyers.
Appearance
Gold wears her organisation's predominate outfit, with an alchemical symbol for gold on her forehead and cross-like markings around her eyes. Her outfit bares her midriff and has a golden gauntlet on her right arm.
Abilities
Gold is an assassin that specialises in the assassination of ability users.[1] For being able to kill Sōichirō Hague in his office without being detected, Gold is regarded as extremely dangerous.[2]
Ignition Ability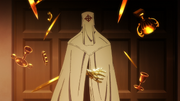 Gold is a Third Generation pyrokenetic, who has a high resistance, enough to completely ignore an ariticially enhanced blast from Tamaki.[1] Using her Ignition Ability, Gold is able to heat gold and to control the subsequently created magnetic fields. This allows her to levitate objects and control items made of magnetic metals such as iron. She is able to do this so quickly that she can stop bullets in mid-air and redirect them while also lifting heavy objects. As such, her assassination style involves the local procurement of weapons.[3]
Plot
Stigma arc
Approaching Sōichirō Arg due to his Stigma, Gold pierced his body with stakes and killed him. Afterwards, the murder was controversially classified as a suicide. However, people who knew Sōichirō Arg the most knew that he was murdered by the White-Clad.
Ōbi's Rescue arc
Upon the Tokyo Army imprisoning Akitaru Ōbi in Fuchū Prison, Gold and another White-Clad approaches Akitaru with a Bug.
Trivia
The symbol on Gold's forehead is the alchemical symbol for gold.[4]
References