Faerie is member of the White-Clad's Great Cataclysm Execution Specialist Force.
Personality
Faerie believes that all will be destroyed by the Second Great Disaster. Even though he respects Dragon, claiming nobody can match his power, Faerie tells him that he will fall along with the rest of humanity.
Abilities
Being a Third Generation, Faerie can use his Adolla Burst to apply heat to atoms to increase their mass, allowing him to manipulate gravity to make himself or others float.[1] He is also thought to be able to cast an illusion of himself, which repairs itself if attacked.[2]
Plot
Stone Pillars arc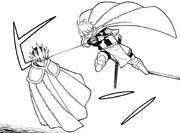 Upon the White-Clad holding a mass in preparation for their final task, Faerie reminds Dragon that no one including himself will survive the upcoming Great Cataclysm. Later, after a stone pillar and Giant Infernal arised from the ocean, Faeri approaches Gustav Honda and Oguru at Tokyo's coast while they argue about Shinra Kusakabe. Taking the Fourth Pillar, he repels Oguru away into the sky before the pair leave. Watching the Giant Infernal assault the coastline, Faerie begins to dodge rods fired at him as Shō Kusakabe engages him in the sky and slices through him. Surviving the cut and being thought to be an illusion by Shō, Faeri explains his Ignition Ability and comments he would have been a worthy Guardian for the Third Pillar before his projection disappears. Straight after from on top of the stone pillar, Faeri comments on his desire for the flames of Adolla setting the planet alight.
Post-Kusakabe History arc
Faerie appears in this arc.
References
Community content is available under
CC-BY-SA
unless otherwise noted.