Jurassic World: Dominion Dominates Fandom Wikis - The Loop
Play Sound
Excalibur (エクスカリバー, Ekusukaribā) is a bladeless sword and the personal weapon of Arthur Boyle. If wielded by a Third Generation, the user can mold a concentrated blade of plasma in place of the blade.
Appearance
Excalibur is a peculiarly designed sword, consisting of only a white hilt. The hilt features a handle with white spiraled tape around it, and a cross at the top resembling that of the cross used by the Special Fire Force. The plasma is emitted from the top of this cross in turn of where the blade of the sword usually is, forming a plasma-blade, that shines a blue aura when activated. It's sheath is white.[1]
Arthur also possess miniature version of Excalibur's hilt that he can use like knives to make smaller cuts. However, these miniature hilts have poor heat resistance and will melt after only a single usage.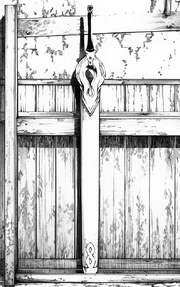 The new Excalibur forged by Vulcan has a much more elegant design than the original. Consisting of a black handle with a pommel that is topped by a rounded guard that comes to a point. The new blade hilt much more resembles one they may have been used by a medieval knight or king.[2]
Overview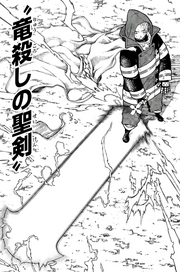 As matter increases in temperature, it passes through the solid, liquid and gaseous states, and once at a high enough temperature, the matter reaches a state of plasma. Such process requires the wielder to use their Ignition Ability to increase the temperature of their flames to this point.[3] As noted by Takehisa Hinawa, the swordplay using Excalibur is equivalent to plasma cutting. The original Excalibur was made out of a high temperature carbon which allowed it to conduct Arthur's plasma without being damaged but it was eventually destroyed by Dragon. The second Excalibur was created using the fairing from a rocket ship recovered from the Nether, resulting in a far more durable weapon that withstood Dragon's onslaught without any sign of damage.
Arthur is right-handed and exclusively uses Excalibur with his dominate hand. Attempting to fight with Excalibur in his left hand results in Arthur losing all ability to fight with a sword, due to his simple-mindedness.[4] When used properly Arthur's cuts can be so fine and precise that when he cuts through objects, the part that was cut doesn't fall through.[5] Excalibur has shown the ability to deflect against and fend off flames. The substance he creates cannot be easily extinguished by a Second Generation, though it can be manipulated by a powerful pyrokinetic.[6] It can also be overpowered, blocked and extinguished by a powerful opponent such as Leonard Burns.
Excalibur is a very flexible weapon when paired with Arthur's imagination. As the blade is product of his powers without a definitive shape Arthur can employ techniques from a variety of styles simply by changing his stance and self-image. By drawing his sword like a katana following his training with Konro and thinking of himself a 'Samurai Knight' Arthur is able to use a Iaidō-style attack he dubs Iai-Calibur. As all of Arthur's abilities are based in Arthur's delusions and ability to imagine himself as a medieval knight, his plasma blade becomes larger and more powerful; the more knightly he feels, the more powerful the blade becomes. The most powerful state the plasma blade has ever achieved is known as Dragon Vanquishing Holy Sword, which Arthur achieved during his battle with Dragon.
Arthur is able to use the plasma to a very fine degree; he can use it like a gamma knife to remove a foreign object from a victim's brain without harming the brain itself. He also uses his mini-Excalibur's to cut through small things, like the lock on a door, but these small replicas are made of sheet plastic, meaning they melt after a single use of plasma.
The second Excalibur has displayed the ability to locate an intended target by releasing a beam of plasma in the target's direction and allow the user to teleport to the location they wish to go. According to Vulcan, he did not include this function.
Trivia
The weapon is named after Excalibur, a legendary sword used by King Arthur.
Excalibur was also the name of a powerful weapon in the Soul Eater series Atsushi Ōkubo's previous work.

In Fire Force when Arthur's version of the weapon speaks as a result of Adolla, it simply says "fool", a recurrent word used by Soul Eater's Excalibur to mock others.
In Chapter 303, Excalibur takes on it's trademark physical appearance and is partnered with Arthur. Shinra even notes that its personalityy is much similar to him.
References