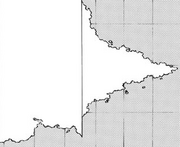 The Chinese Peninsula is a continent west of Tokyo. As a peninsula, it is surrounded by water on three sides, and contains fragile dry land, which due to being unstable, can collapse into lava below. For two hundred and fifty years after the Great Cataclysm, Infernals have wandered in areas of the peninsula.[1]
Some areas in the peninsula contain gas, which can intoxicate humans, leading to them acting abnormal.
Locations
Trivia
The Chinese Peninsula slightly resembles the Shandong Peninsula, a real-life peninsula in the Shandong province of eastern China.
References