We're Getting Mutants in the MCU - The Loop
Play Sound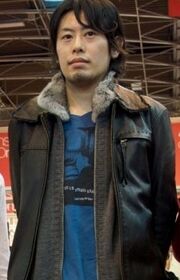 Atsushi Ōkubo (大久保篤, Ōkubo Atsushi) is a Japanese mangaka, better known for his metaseries Soul Eater. He is the author and illustrator of the Fire Force manga series. He appears in every volume of the manga and often directly address the reader through the Afterword Manga: Atsushiya as the Usher.
Biography
Ōkubo was not exactly a model student, being more attracted to actual drawing than to school learning. When he turned 20 and after finishing his studies at a manga school, he met Rando Ayamine there, who is the artist of the "Getbackers". On this project, he became Rando Ayamine's assistant for two whole years. Later in his career, he won a competition at Square Enix's Gangan magazine with his first manga series "B.Ichi" and it was published for four volumes. After the end of his B.Ichi's run, he created "Soul Eater", still for Square Enix's Gangan magazine, which brought him worldwide success and recognition.
Early Work
Ohkubo got his professional start as an assistant under Ayamine by helping him with Ayamine's manga series, "GetBackers". He then developed "B.Ichi", his first serialised that began in 2001 and ended in 2002. Considered a spiritual successor to B.Ichi, "Soul Eater" shortly after in 2003. Ohkubo created three one-shots ranging from Summer to Autumn of 2003 that would be the foundation for the series.
Soul Eater would then started regular serialization in Square Enix's Monthly Shōnen Gangan magazine on May 12, 2004. A 51-episode anime television series adaptation produced by Bones was broadcast in Japan on TV Tokyo from April 2008 to March 2009. The series would spawned a drama CD, an two art books, and three video games. Soul Eater was the 7th best-selling manga in 2008, with 3,076,351 copies sold. As of October 2012, the manga had over 13 million copies in circulation. As of April 2018, the manga had sold 18.2 million copies worldwide. As of July 2019, the manga had 19.6 million copies in circulation. A manga series spin-off, titled Soul Eater Not!, was serialized in Monthly Shōnen Gangan from January 2011 to November 2014.
Fire Force
On December 30th 2014, Ohkubo responded to a fan question on Twitter about his next series by saying that he is currently making preparations so he can announce a new series in 2015. In Weekly Shonen Magazine's 2015 issue 32, released July 8th 2015, the magazine revealed Ohkubo's new work would be a science fiction firefighting series and the first weekly manga in the author's career. The announcement featured a colour illustration of a firefighter that would later be recognised as the series' protagonist.
On September 23, 2015, Fire Force would release its first chapter. The first volume was released on February 17, 2016. An official English translation by Kodansha was announced July 2nd and its first volume would release November 22nd. As of January 2018, the manga had 1.8 million copies in circulation. This number would climb to over 15 million copies by April 2021. On November 14, 2018, an adaptation of Fire Force by David Production would be announced. The first episode of a 24 episode season would air on July 6, 2019. The first season would be directed by directed by Yuki Yase and conclude December 28, 2019. A second season would begin July 4, 2020 and end December 12, 2020, with Tase being replaced by Tatsumi Minakawa as series director.
In the author commentary of Fire Force's Volume 23, Atsushi Ohkubo would state that he intended Fire Force to be his final manga and that it was entering the final stage of the story.

Works
Trivia