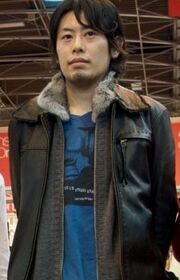 Atsushi Ōkubo (大久保篤, Ōkubo Atsushi) is a Japanese mangaka, better known for his metaseries Soul Eater. He is the author and illustrator of the Fire Force manga series.
Biography
Ōkubo was not exactly a model student, being more attracted to actual drawing than to school learning. When he turned 20 and after finishing his studies at a manga school, he met Rando Ayamine there, who is the artist of the "Getbackers". On this project, he became Rando Ayamine's assistant for two whole years. Later in his career, he won a competition at Square Enix's Gangan magazine with his first manga series "B.Ichi" and it was published for four volumes. After the end of his B.Ichi's run, he created "Soul Eater", still for Square Enix's Gangan magazine, which brought him worldwide success and recognition.
Early Work
Ohkubo got his professional start as an assistant under Ayamine by helping him with Ayamine's manga series, "GetBackers". He then devolved "B.Ichi", a spiritual predecessor to Soul Eater shortly after and in 2003, he created "Soul Eater" with three one-shots ranging from Summer to Autumn of 2003.
Works
Trivia
Community content is available under
CC-BY-SA
unless otherwise noted.