Jurassic World: Dominion Dominates Fandom Wikis - The Loop
Play Sound
The Adolla Burst (アドラバースト, Adora Bāsuto), also known as the Genesis Flame, is a flame or energy that originates from Adolla. It is believed to be the original flame,[1] and is regarded as being "pure and unsullied".[2] Within the scientific community, it is referred to as the Flames of Destruction.
Overview
Adolla Bursts originate from Adolla, a little-understood alternate dimension that is connected to the collective unconscious of humanity, and from which otherworldly entities, such as the Evangelist, originate. The true nature of the Adolla Burst is unknown and there is currently no specific explanation as to how the Adolla Burst differs from regular fire.[3]
The Adolla Burst is unimaginably powerful and can be used to bring both creation and destruction; Adolla Bursts were undeniably the cause of the Great Cataclysm, a worldwide supermassive wildfire that nearly destroyed everything. They have also been used to restore vibrant life and greenery to an otherwise barren land. Furthermore, an Adolla Burst is the functional heart of the Amaterasu power plant and produces the unlimited energy enjoyed across all of the Tokyo Empire.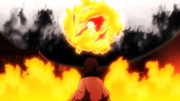 The Adolla Burst is in the possession of a select few Third Generation pyrokinetics who are believed to be descendants of the Sun God and his lineage.[4] Being from an alternate realm, the Adolla Bursts do not conform to the physical laws of Earth; they grant a tremendous boost of strength to a pyrokinetic who has one, and in some cases can even enhance their abilities to grant amazing powers that would normally be impossible, even for pyrokinesis, such as cooling the heat that causes the natural expansion of the universe to slow down the flow of time, or heating up surrounding atoms to increase their mass to nullify gravity. People with an Adolla Burst can be located using a special parasite, or a device constructed by Haijima Industries.[5]
The one unifying property of all Adolla Bursts is that they are connected with Adolla and, in turn, connected to everything else connected to Adolla, the realm of the collective minds, emotions, and perceptions of humanity. This is the source of the Adolla Link, a phenomenon that allows an individual to experience the realm of Adolla and connect with others through Adolla. An ordinary human cannot handle Adolla, feeling tremendously overwhelmed and losing an eye when exposed to the alternate realm. However, an individual with an Adolla Burst does not suffer these drawbacks and have a more "mundane" connection to Adolla.
References